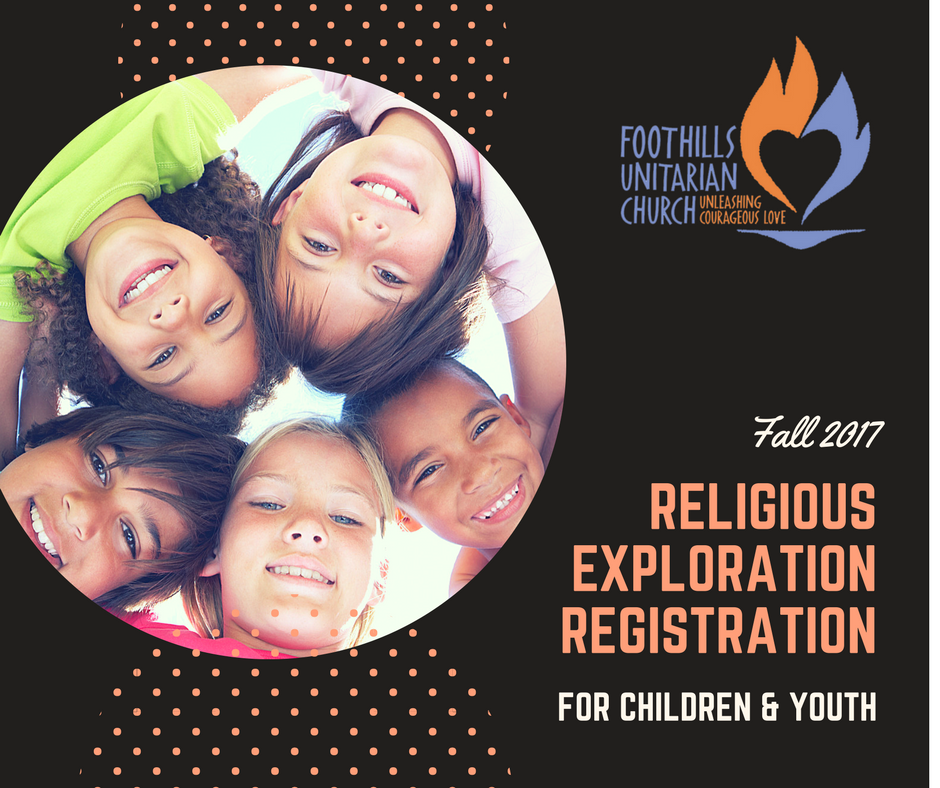 Register your Family for Religious Exploration Programs
August 21st - May 31st, 2018
We ask all parents/guardians to register their children for their appropriate classes.
We offer Religious Exploration Programs during our three Sunday Church Services
8:30 - 9:30 am - Nursery thru 4th grade
10:00 - 11:00 am - Nursery thru Middle School
11:30 - 12:30 pm - Nursery thru Middle School
11:00 - 12:30 pm - High School
5th Grade OWL Our Whole Lives Class
January 22nd - March 5th, 2018
$30 - $50
This comprehensive, developmentally appropriate program introduces key topics like values, body image, gender and sexual identity, peer pressure, and healthy relationships with sensitivity and inclusiveness, yet without specifically religious doctrine or reference. The underlying values of the program reflect the justice-oriented traditions of its publishers, the Unitarian Universalist Association and the United Church of Christ.
The Orientation for the Class will be on MONDAY, JANUARY 15th from 6:00 - 7:30 pm at Foothills. This is a change from the Sunday evening that I had mentioned to a few of you. We realized that that weekend is the Martin Luther King Holiday weekends so many people will be unavailable on Sunday. For your child to participate in the class at least one parent and the child must attend this orientation where parents review the course content and consent for their child to participate in the class.
The Class will be held on 7 Mondays following the orientation from 6:00 - 7:30 pm January 22nd thru January 5th
Find Your Spiritual Practice Workshop
January 28th - February 18th, 2018
So just what is a spiritual practice? Sounds a bit sappy and new agey, but wait! Before you rule it out, open your mind to the idea that you may already have one and you just didn't know it. A spiritual practice can be defined as something that you do again and again, with commitment and deep attention that helps you to feel calmer, more grounded, more focused and in touch with your inner wisdom. It might be your morning walk or run, writing in a journal, drawing, knitting, playing an instrument. For my partner it's definitely road cycling, for me it's an artistic contemplative practice called Soul Collage©. A spiritual practice need not be time consuming or expensive. The possibilities are endless and the spiritual practices that work for you are waiting to be discovered or rediscovered. Join us for this workshop to learn about and experience a variety of Spiritual Practices
All Church Sunday Celebration At CSU
February 4th, 2018
Please join us for our All-Church Sunday Celebration
When: Sunday February 4th from 9:30 - 12:00 pm
Where: CSU Lory Student Center Grand Ballroom
What: A Sunday to be all together and celebrate our shared commitment. Breakfast starts at 9:30, and an interactive worship service with amazing music and storytelling starts at 10:15 (no services at the church).
What Else: We'll have an all-church photo and make our financial commitments for the coming church year. Child care provided for children 4 and under. Everyone else is invited to join the celebration. Free parking. Look for more information coming to your email within the next few days.
RSVP by registering here, or call the office no later than Jan 26th.
Questions? Contact the Stewardship Team at stewardship@foothillsuu.org.
Base Camp - The Starting Place for Newcomers
February 8th - February 22nd, 2018
Base Camp equips newcomers to connect into our church community, engage with our living theology, and find their place in our mission to unleash courageous love in Northern Colorado and beyond. If you are a newcomer or are seeking a place to renew, Base Camp should be your first step. Participation in all three sessions is recommended.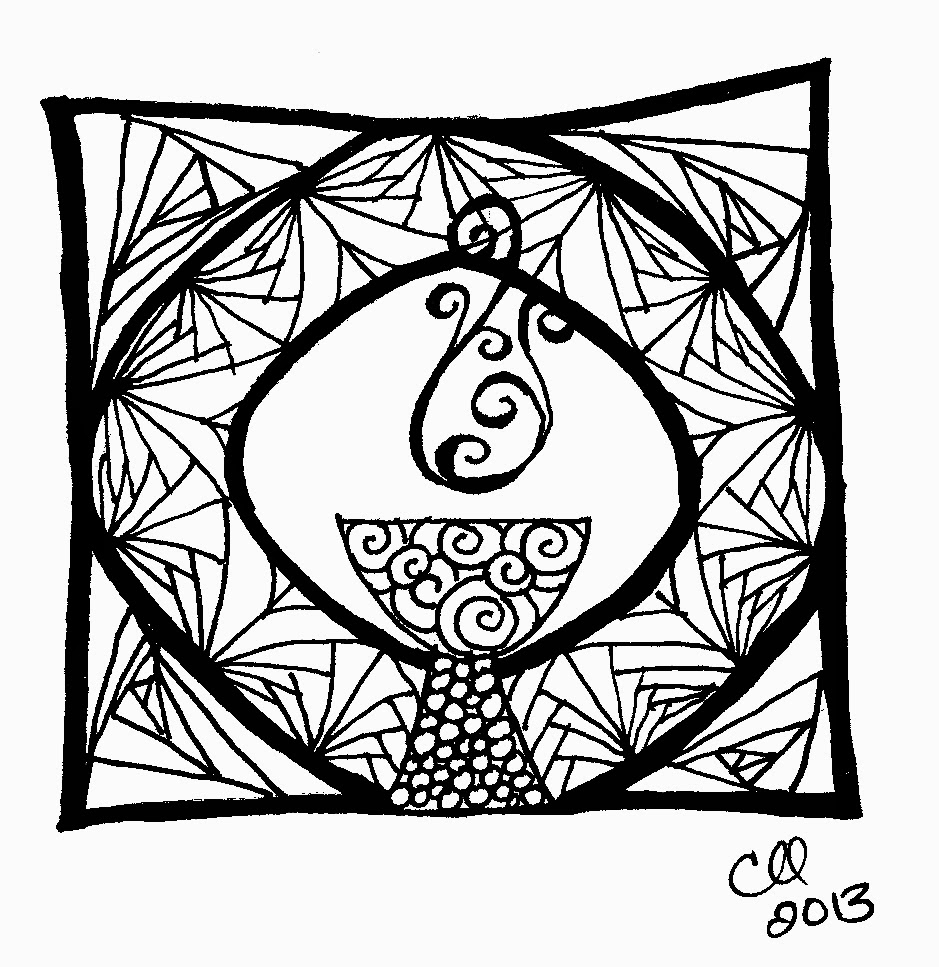 Zentangle Workshop
February 10th, 2018
$5
Zentangle is an easy-to-learn, relaxing, and fun way to create beautiful images by drawing structured patterns. Anyone can use it - you don't need experience in art. Zentangle provides a meditation type of experience including the reduction of anxiety and the quieting of a "busy mind". All materials will be provided, and should you wish, you can take them with you for a small fee. You will learn all of the basic techniques in this class allowing you to continue enjoying the fun and reaping the benefits of this art form. The class will be led by church member and expereinced Zentangle instructor Jan Latona
Fireside Chat with Gretchen
February 15th, 2018
Grab a hot beverage and sit by the fire for a conversation with Foothills Senior Minister Rev. Gretchen Haley. Bring your questions and wonderings about Foothills, life, Unitarian Universalism and beyond.
This is the first in a monthly series. Attendance is limited to keep the conversation intimate, RSVP required.
Dinners in the Home
February 24th, 2018
The winter session of Dinners in the Home is beginning soon. This meet-and-eat opportunity is a long-standing tradition at Foothills. Group of eight (partners or singles) meet in homes, once a month, for three months. The group decides who will host and who bring which course. For more information contact Pam Stevens: 225-1223 or pamelahope@aol.com.
Spring Break Camp!
March 12th - March 15th, 2018
$0 - $100
I am super excited about this! We have decided to offer a four day camp during Poudre R1 Spring Break! Our camp will be "Show Up for Good!" We will be learning about ways that we can show up in our church, our neighborhood and the world to spread goodness and justice! It will be very similar to our popular Summer Camp and is for kids ages 4 1/2 - 12. Cost is $100.
We are looking for youth counselors ages 13+. Contact eleanorv@foothillsuu,org if you are interested in serving as a Youth Counselor. 
GroupLink: Find Your People
March 17th, 2018
$0
Foothills is a big church, but we know that deep transformation happens in small places. Why? Because it's through meaningful relationships that we grow.
If you want to grow, intentional relationships with people who have the same goal is a good place to start. This is why we are starting Gather Groups. Small groups of 8-12 people committed to deep relationships and growth in faith as Unitarian Universalists, and becoming a caring community.
Want relationships that go beyond small talk?
Come to Group Link where you will be guided through the process of joining a Gather Group.
GroupLink is a two-hour event where you can meet people with the goal of forming a Gather Group. A host and plenty of staff members and volunteers will be on hand to help you navigate the process of meeting others and forming a group.
When you register to attend GroupLink, we'll match you with an initial connection group comprised of people who have similar group preferences. If the logistics of this group work for you, great! If they don't work for you, volunteers will help you find a different group. We don't assign you to a group. You come to GroupLink to meet others and decide which group you would like to join.
Groups will meet weekly for about 8 weeks after GroupLink in members homes, at a time that works for everyone. After that, the group will decide if they want to continue. It's a try it before you buy it type experience.
Soul Collage Workshop - "Be Real"
March 24th, 2018
Join us on Saturday, March 24th from 9:00 to noon for SoulCollage® Workshop
SoulCollage®is a creative and satisfying collage process. You make your own deck of cards – each collage card representing one aspect of your personality or Soul. Use the cards intuitively to answer life's questions and participate in self-discovery.
During this Workshop we will create cards that explore our authentic "real" identities.
The class will be facilitated By Jean McBride - director of Northern Colorado Soul Collage Studio and mixed media collage artist Sarah Fishburn.
This workshop is appropriate for ages 14+
New Member Welcome Ceremony
May 6th, 2018
Ready to be welcomed as a full member of Foothills?
If you have taken Base Camp or Path to Membership you are eligible to join. You can do this anytime by coming to the office and asking to sign the book, but four times a year we hold a special ceremony during worship to ritually welcome you in.
Let us know you are coming by registering online.