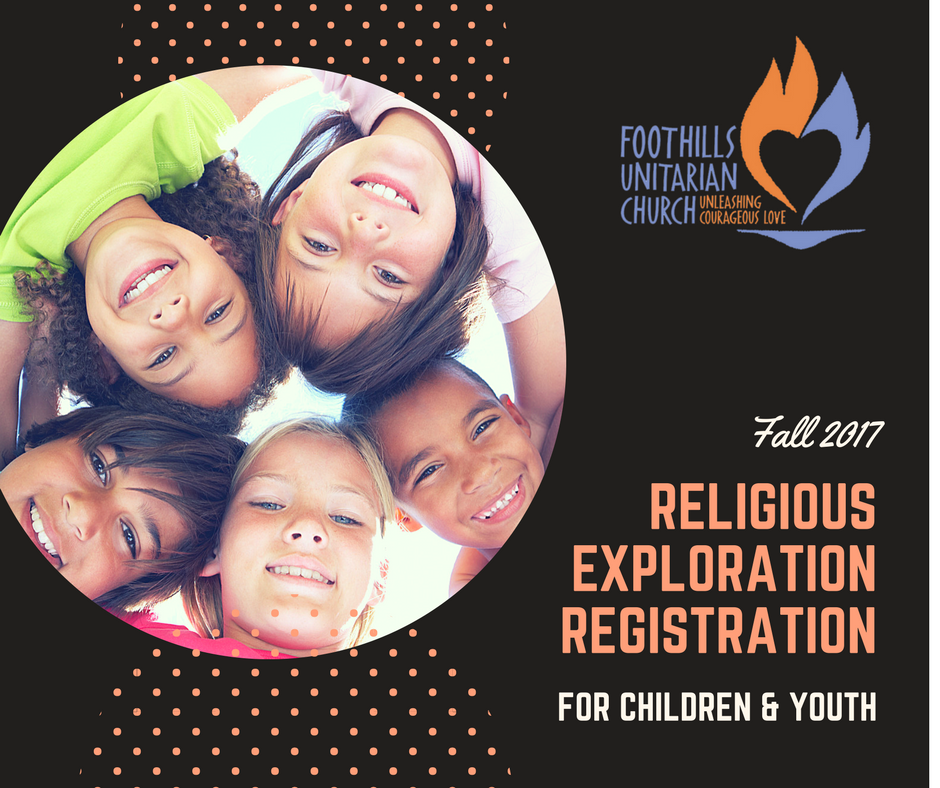 Register your Family for Religious Exploration Programs
August 21st - May 31st, 2018
We ask all parents/guardians to register their children for their appropriate classes.
We offer Religious Exploration Programs during our three Sunday Church Services
8:30 - 9:30 am - Nursery thru 4th grade
10:00 - 11:00 am - Nursery thru Middle School
11:30 - 12:30 pm - Nursery thru Middle School
11:00 - 12:30 pm - High School
Base Camp - The Starting Place for Newcomers
May 4th - May 5th, 2018
$0
Base Camp equips newcomers to connect into our church community, engage with our living theology, and find their place in our mission to unleash courageous love in Northern Colorado and beyond. If you are a newcomer or are seeking a place to renew, Base Camp should be your first step.
One Village One Family : Fun-Fundraising Event
May 7th, 2018
$5 - $15
Join us at Intersect Brewing for a family friendly event. Intersect Brewing is proving BOGO beer! All proceeds will support our One Village One Family program at Foothills. Beverages, food and entertainment included in the ticket price.
Connections Dinner
May 17th, 2018
Join us for an evening of food, new friends and connection at the Connections Dinner. Make new friends over food and conversation. We will have a potluck (the church will provide the main dish) and then you can learn more about Foothills through three, 20-minute session focusing in the areas of Foothills history, small groups, justice ministries, RE programs, spiritual practice groups, and spiritual deepening with our Reverands.
Anyssa Neumann, Piano Performance to Benefit Interfaith Emergency Fund for Immigrants
May 19th, 2018
$0 - $20
The Interfaith Sanctuary and Accompaniment Coalition (ISAAC) is presenting a piano recital on May 19th at 7:30pm (doors open at 7:00pm) at Foothills Unitarian Church. This concert is a benefit for the Interfaith Emergency Fund for Immigrants, a fund which will support DACA recipients and all of those facing challenging times due to immigration policies.
Anyssa Neumann has performed in the US, England, Germany France and Spain. She toured with an all-female ensemble performing tradition Jewish music, jazz, classical, and bossa nova. Clearly, she has something for everyone! Don't miss this unique opportunity to hear an international pianist performing in Fort Collins.
Tickets are $20 in advance, $15 in advance for Seniors and Students (with student ID) and $25 at the door. Child care is available with registration (no additional cost).
Patio chats with a minister
May 24th - August 9th, 2018
Join us on patio for ice tea, fire pit, beautiful summer evenings and conversation with a minister!
Foothills Kid's Summer Day Camp
June 4th - June 8th, 2018
$0 - $140
Registration is Open for Foothills' Kids Summer Day Camp
All Children ages 5-12 are Welcome!
June 4th - 8th, 2018 at the Foothills Unitarian Church.
Camp Hours are 9:00 am - 3:30 pm. Before and After Camp Care is available.
Join us for a fun filled week of learning how we can be more kind to ourselves, to each other and to the world! Our camp will include lots of time outdoors, games, art, music, walking field trips, special guests and fun with friends! Our camp has a counselor to child ratio of 3:1.
Multiple child discounts are available! Just enter 2ND CHILD (to receive 15% off your second child) and 3RD CHILD (to receive 20% off your 3rd child) in the discount code box at check out!
Youth - 8th grade and up are invited to apply to serve as Youth Counselors!
A limited number of partial and full scholarships are avaialble
Contact: Eleanor VanDeusen - Director of Faith Formation eleanorv@foothillsuu.org to request a scholarship or if you have other questions.